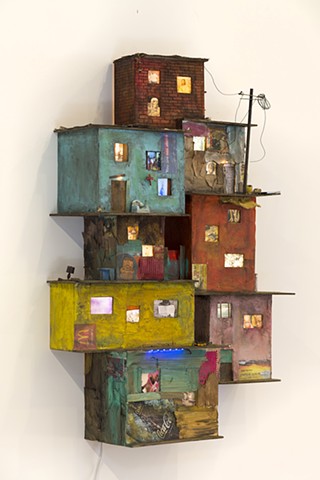 Eight More Shacks
wood, inkjet prints, paint, lights, lcd screens, media players, speakers, transformer
42 x 29 x 10"
2018
XIII BIENAL DE LA HABANA. MATANZAS
Matanzas, Cuba
"INTERMITTENT RIVERS" led by the Dr. María Magdalena Campos-Pons, proposes an artistic intervention that extends beyond a personal proposal to create a work that aspires to construct a vibrant city of Matanzas, keeping in mind its extraordinary cultural history, the geography of Matanzas, and the tremendous tradition and patrimony of the city.
With curatorial advisors Selene Wendt, Octavio Zaya, and Salah Hassan.
Artists include Carrie Mae Weems, Julie Mehretu, Olu Oguibe, Mel Edwards, Simone Leigh, Marila Dardot, Paul Stephen Benjamin, Torben Giehler, and Dawit Petros, among others.
With generous support from Robert Borlenghi and Pan America Art Projects.