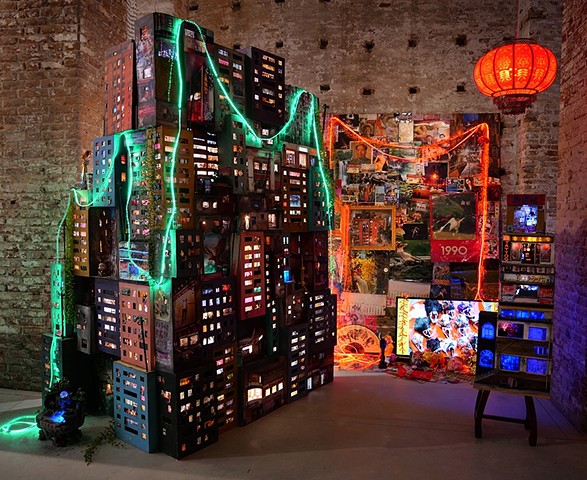 Based in Berlin
image shown:
Shanghai/Chongqing Hot Pot/Mixtape
Installation with video, lights, sound
La Biennale di Venizia 2019
Swatch Pavilion
through November 2019
Present Events:
La Biennale di Venizia 2019
Shanghai/Chongqing Hot Pot/Mixtape
Installation with video, lights, sound
Swatch Pavilion
through November 2019
Havana Biennale
Matanzas, Cuba
April - May 2019
Criminal City
commission for the Historisches Museum Frankfurt
Frankfurt, Germany
October 2017
10 year installation
fondationfernet-branca.org/collection-b?
A City Connetced
commission for Facebook
Menlo Park, California
permanent installation
Recent press:
Asphalt Jungle, Jules Maeght Gallery, San Francisco:
wsimag.com/art/37904-asphalt-jungle
Articles on my solo exhibition First We Take Manhattan in Berlin at Künstlerhaus Bethanien:
bpigs.com/diaries/reviews/tracey-snelli?
goart-berlin.de/studio-visit-with-trace?
www.bz-berlin.de/berlin/friedrichshain-?
www.bz-berlin.de/liveticker/b-z-ist-tei?
Vernissage TV video link: www.youtube.com/watch?v=zYJChY6jofM&?
Il Terzo Giorno exhibition in Parma, Italy: parma.repubblica.it/cronaca/2018/03/14/?
www.artslife.com/2018/03/31/a-parma-arr?
New Catalogue, with text by Christoph Tannert and Natasha Boas:
contact me to order, or order through: www.bethanien.de/en/shopping-basket/
Walking down the street at night, I look at the lit windows of the homes I pass, and wonder what is taking place behind that drawn curtain? A tired motel sign along the side of the highway still buzzes and beckons travelers to come stay in one of the faded rooms. Who stayed there, and what secrets exist? A chaotic corner near Kottbusser in Berlin teams with life and sometimes danger. I want to know the stories of the people who I meet here, or those who once called this home.
Through the use of sculpture, video, installation, and performance, I give my impression of a place, its people and their experience. Often, the cinematic image stands in for real life as it plays out behind windows in the buildings, sometimes creating a sense of mystery, other times stressing the mundane.
My work derives from voyeurism, film noir, and geographical and architectural location. Within this idea of location, themes develop of a particular locale's inhabitants: Who lives here? What do they do, and why? These questions transport observation into the realm of storytelling. I explore place, people, and culture through the use of scale and repetition of a theme, creating new realities that change with the viewer's perception. Utilizing video, sound, and manipulation of size, I am not trying to replicate a place; rather I give my impression of a place, its people and their experience, and allow the viewer to extrapolate his or her own meaning.
When visiting different cultures, countries, and neighborhoods, I am fascinated by the possibility of unfamiliarity. To be square in the middle of a culture so foreign, one can feel both invisible and on display at the same time. To walk down unfamiliar streets, trying to dress and assimilate as though I belong, I am able to observe subtly the daily interactions and goings-on of the people who live and work there. Sometimes I will give up the idea of being inconspicuous and travel as "the tourist," camera and sound recorder in hand, which offers yet another perspective and offers a completely different take.
At the core of my work resides the intersection of place and experience, and a deep interest in sociology. I want to understand the similarities and differences between us, and how each of us manages the human condition. When exploring different cultures, I try to do this with as much respect as possible, while still staying true to my interest by exploring the little seen corners and quirks. Ultimately, my personal views and ideas come into play, and I believe it is this melding, the known with the unknown, the foreign with the familiar, that fuels my work.

Installation shown at the Venice Biennale 2019, in the Swatch Pavilion