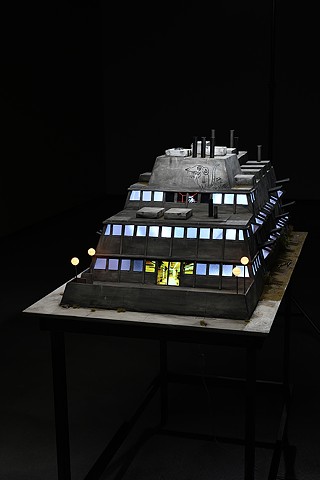 Mäusebunker
Wood, paint, plaster, plastic, fake landscaping, lights, media players, lcd screens, speakers, transformer
48 x 70 x 130 cm
2021
Mäusebunker is the nickname for the Charité Research Facility for Experimental Medicine, formerly the Central Animal Laboratories of the Free University of Berlin. It is a scientific research building where many animal experiments took place. The building was set to be demolished, but a petition has helped to save it, at least for the moment.
My Mäusebunker sculpture is a loose recreation of the building, capturing its essence. Videos play in the front windows and back, with clips from mouse experiments and dissection, mouse cartoons, Luis Buñuel's The Exterminating Angel, Breaking Bad, and images of the interior of the building and models of it.
Exhibited in Exhibited in Mäusebunker & Hygieneinstitut Architetture die G+M Hänska / Fehling+Gogel, IUVA Venezia, Pavillon-Days of the Venice Biennale of Architecture, 2021;
Suddenly Wonderful! Visions for Chunky Architecture in West Berlin, Berlinische Galerie, Berlin, Germany 2023.
Photo by Peter Rosemann